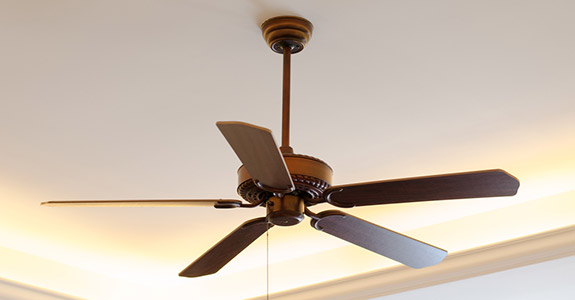 Ceiling Fan Installation, Replacement, & More
Ceiling fans are a great addition to any room of your home because they provide a bevy of options that allow you to control the conditions in that room. Whether you just want to get some air flowing to break up stagnation or you're looking for a cool solution to a hot day, a ceiling fan installation in Tucson, AZ is the perfect answer.
Whether you have an existing ceiling fan that you're looking to retrofit with something better suited to your living space or you need a brand new installation wired in and installed, Day Star Electric is the premier provider of service. We aim to provide you with a ceiling fan that looks and functions ideally within your living space.
Fan installation: We have the capabilities to install a brand new ceiling fan in your room, even if there is no preexisting fixture to be replaced. From the initial wiring to the actual physical installation and testing, we provide you with start-to-finish services that result in a perfectly functional ceiling fan.
Fan replacement: If you require a ceiling fan replacement in Tucson, AZ to improve the efficiency or functionality of an existing installation in your home, our experts can assist you to the fullest levels of service. We have a depth of experience in removing old fans, testing and retrofitting wiring, installing new models and testing them to ensure seamless functionality.
Custom switches: Controlling your ceiling fan is made simple with the addition of dimmer switches and variable speed controls! We can also provide you with comprehensive controls that put fan and lighting side by side in the palm of your hand, so you can instantly and accurately set the atmosphere of the room to meet your needs.
Complete fan services
Instead of trying to install your own fan and facing the headaches that can come with trying to facilitate a retrofit or brand new installation, trust the professionals at Day Star Electric We're ready, willing and able to assist you in all facets of ceiling fan installation, so you can lay back and enjoy the benefits of a brand new fan in your home.
From your bedroom to your living room and beyond, wherever you require a fan, know that our talented team of experienced professionals is on hand to make sure your ceiling fan is functioning to a superior level of effectiveness and providing you with the control you demand.
Contact us today
If you're dealing with the prospect of a new ceiling fan installation in Tucson, AZ, make sure you're consulting with Day Star Electric first. We're here to assist you in brand new installations, retrofits and custom switches, to help you make the most of your living space. For more information on ceiling fans, electrical panel work, custom lighting, and other electrical repairs, please contact us today by calling (520) 481-3929.